AMP SUMMER CONCERT TICKETS
Welcome to the official online ticketing portal for the
GRFA Amp Summer Concerts!

The Vail Valley community is excited to announce the return of the Gerald R. Ford Amphitheater's summer-long music series that brings a new era of headliner music to Vail. The series is booked in collaboration with AEG Presents, one of the largest live music companies in the world, and will bring well-known rock, pop, country and bluegrass icons to Vail for ticketed shows throughout the summer.
 
SHOWS WILL BE ANNOUNCED AS THEY ARE BOOKED!
Please JOIN OUR EMAIL LIST to stay up-to-date with concert bookings and to receive pre-sale notifications.

Have a pre-sale promo code? The presale promo code must be entered BEFORE the performance will become available for sale.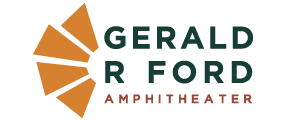 BOX OFFICE:
970.845.TIXS(8497)
tickets@vvf.org
VPAC Hours of Operation:
Box Office hours are 11am to 5pm, Monday through Friday 11am to intermission on showdays and two hours prior to a scheduled performance on Saturdays & Sundays.

GRFA
Hours of Operation:


Box Office hours are 11am to 5pm daily or 11am to intermission on showdays.

(mid May to early September).
Ticket Policy:
 ALL TICKET SALES ARE FINAL. NO REFUNDS. NO EXCHANGES.


Tickets & programming subject to change. Additional fees may apply to any purchase.
VENUE POLICY:
By purchasing a ticket you consent to any Venue Policies/Terms & Conditions of Admission/ COVID Waivers that may apply. Violation of those policies/terms can result in removal from the event and revocation of this ticket without refund or prosecution.

Visit grfavail.com  to see full a list of Venue Policies.