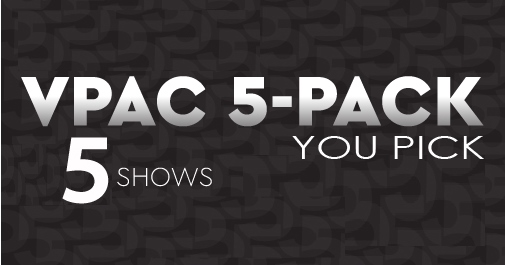 YOU Pick 5-Pack! $150
Dance-Classical-Opera-Family-Concerts
This winter the 5-PACK sets you up to experience a solid variety of the top quality shows coming to your Beaver Creek stage, at affordable pricing!  That's what VPAC's 5-PACK is all about. Save big with this pack.

Select any 5 of the below performances for only $150:
                                                                  1/12/18: Ririe-Woodbury Dance Company
                                                                  1/23/18: Anderson & Roe Piano Duo
                                                                  2/1/18: Dover Quartet
                                                                  2/3/18: Golden Dragon Acrobats (7:30pm showing)
                                                                  2/12/18: Rising Stars of the Opera
                                                                  2/15/18: Ailey II
                                                                  2/23/18: Alternate Routes
                                                                  3/2/18: SIRO-A
                                                                  3/6/18: The 5 Browns
                                                                  3/7/18: Catapult
                                                                  3/12/18: Violinist Sarah Chang
                                                                  3/23/18: SHEL
                                                                  3/28/18: Vocal Illusions of Lynn Trefzger
Perks of the Pass :
Each pass gets you 1 seat to each performance. The tickets are transferable, so you can share it among friends and family!
Can't make it to a show? – give your seat to a friend for the night.
BOX OFFICE:
 970.845.TIXS(8497)
 tickets@vvf.org

Hours of Operation:
Box Office hours are 11am to 5pm, Monday through Friday 11am to intermission on showdays and two hours prior to a scheduled performance on Saturdays & Sundays.
 
Ticket Policy:
 ALL TICKET SALES ARE FINAL. NO REFUNDS. NO EXCHANGES.


Tickets & programming subject to change. Additional fees may apply to any purchase.
VENUE POLICY:
By purchasing a ticket you consent to any Venue Policies that may apply. Violation of those policies can result in removal from the event and revocation of this ticket without refund or prosecution.

Visit vilarpac.org or grfavail.com  to see full a list of Venue Policies.